Le Clos du Littoral in Mauritius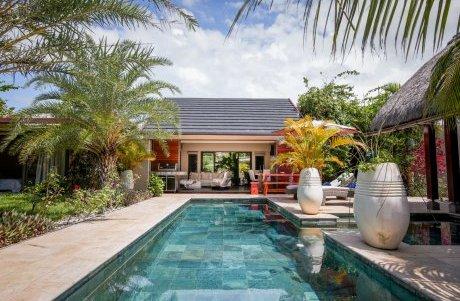 ---
---
Grand Bay, Mauritius
€1,008,000
---
---
In the heart of the RES project "Le Clos du Littoral-Phase 1", prestigious fully furnished villa of high standing, in a completely secure environment with green areas, spa, boat parking, and access to an exclusive Beach Club. This "Fregate" type villa offering complete privacy boasts three ensuite bedrooms, a glazed office, a fully equipped modern open kitchen, a living / dining room opening out onto the lush private garden and a large pool with kiosk.
This acquisition will grant you permanent residence.
The RES development Le Clos du Littoral is more than just a luxury real estate development. Le Clos du Littoral sets itself apart with its exclusive features and concept that ensure an unprecedented quality of life and well-being to its residents.
Set amidst beautiful lush surroundings, this up-market project skillfully blends in modern architecture and nature. It encompasses a simple yet contemporary style, with a touch of local know-how through the use of natural materials such as wood, stone and straw.
Offering unparalleled levels of comfort, the residences offer large living areas which open onto landscaped gardens and are perfectly suited for the warm climate and sunny days of the north coast.
Ideally located in Grand Bay, one of the most renowned resorts of the island, the site is easily accessible and close to both the city centre and the beach.
Featuring the perfect blend of refined architecture and spacious living spaces, Clos du Littoral is set to become the reference in RES developments in Mauritius.
Phase I of Le Clos du Littoral has been hailed as an unprecedented commercial success. The project comprises 63 high-end villas divided into six categories, where each villa provides comfortable living space complemented with optimum natural lighting.
Oozing comfort and luxury, the villas, harmoniously integrated into the complex, are nestled in enclosed land and offer a high level of privacy and intimacy.
Owners have already settled into their new homes and the village has won high praise for its outstanding quality of life. Elegant architecture, bright interiors, lush green areas and refreshing ponds and pools, everything has been carefully designed for the well-being of its inhabitants. These luxury villas are set in a peaceful and quiet environment with large landscaped gardens and private swimming pools.

Property Features Include: private pool, private parking

Architectural Style: Contemporary

Lot Dimensions: 700m2
Web id: LDOY
MLS#: PRRESNCDL-SN319
Bedrooms: 3
Bathrooms: 4