optimal privacy in Gold Coast Switzerland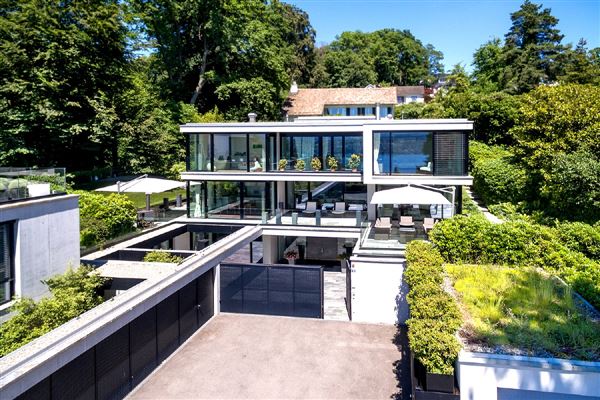 This contemporary, virtually new villa is a flat-roofed, exposed concrete construction with the benefit of amazingly spacious interiors arranged over three floors with an extensive open layout together with stylishly exclusive interior design, a stunning lighting concept, exceptional natural light, adaptable living space, fabulous views, and exteriors of a quality that are quite literally unparalleled. Ideal for the family with one or two children (and maybe a nanny as well) and for whom only the best is good enough or for a couple looking to combine living and working under a single, impressively representative roof - this is an ultra-modern, exceptionally on-trend designer villa in the ultimate high-end bracket, representing a superlative prospect in a particularly idyllic spot with optimal privacy in a prime Gold Coast location.
This Kusnacht villa is the creation of the renowned Zurich architect Theo Hotz, whose reputation for his monumental constructions characterized by their dialogues between concrete and glass extends well beyond the border. Conversely, he has produced only a handful of residential villas, all of which have been designed as personal favors to friends. The Kusnacht property is, accordingly, a uniquely rare signature villa of exceptional architectural importance. Price indications are in excess of CHF 10 million.
Approximate Square Feet: 5242 ft
Web id: HXST
MLS#: 234624
Approx. Sq. Ft.: 5242
Bedrooms: 4
Bathrooms: 4
Company
+41 44 910 77 33
Office
41 44 910 77 33
Agent
Nadja Hotz