optimal privacy in Gold Coast Switzerland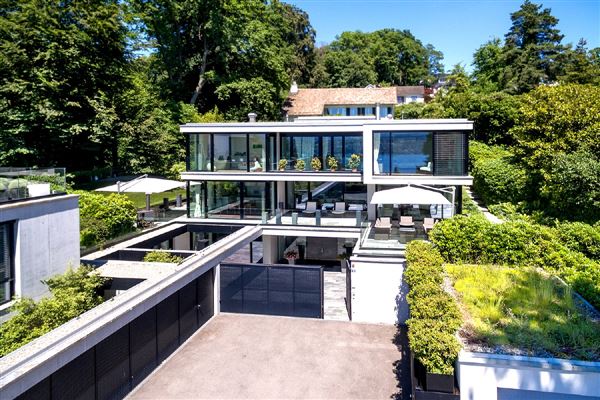 ---
---
Küsnacht, Switzerland
Fr10,900,000
---
---
Offered in virtually new condition, the villa is arranged over three levels and benefits from sweepingly open, light-flooded layouts, exceptionally exclusive interior design, and a state-of-the-art lighting concept in addition to magnificent terraces and exterior landscaping.
Suitable for a family with exacting demands and one or two children, or a couple looking to combine living and working under a single, appropriately representative roof, this is a very special, out-of-the-ordinary prospect in the ultimate high-end bracket with the advantage of a particularly idyllic and secluded location on the Gold Coast.
The inspiration and creation of the acclaimed architect, Theo Hotz, the property offered for sale is characterized by its uniquely distinctive architecture and exceptionally generous proportions and has an asking price of over CHF 10mio. Typical of Hotz's highly sought-after style is his on-trend, harmonious interplay of materials juxtaposing concrete and glass. Known for his monumental constructions, Hotz's one-off, residential villas are restricted to a handful of commissions for clients personally known to him.
This Küsnacht property is, accordingly, a particularly rare signature building of high architectural value.
Built in: 2009
Approximate Square Feet: 5242 ft
Lot Dimensions: 2067
Web id: HXST
MLS#: 234624
Approx. Sq. Ft.: 5242
Bedrooms: 4
Bathrooms: 4
Rooms: 9
Company
+41 44 910 77 33
Office
41 44 910 77 33
Agent
Nadja Hotz